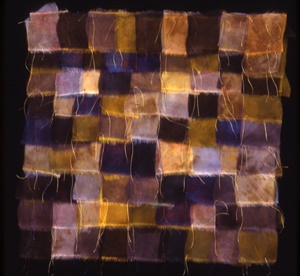 Artist Statement
I am fascinated by the tonal value of color, rough versus smooth, structure versus chaos. Some work will be about those two different approaches, and some work uses both ideas. My designs are never predetermined, they develop as I go. I work in a deliberate and thoughtful manner until the design problem is solved in a sudden insight.
My goal as an artist is to communicate emotions in a non-verbal, non-objective way by using color and color combinations. I love that a connection between myself and another can happen regardless of time or distance.
Biography
Renee was born in Albuquerque, and grew up in California. She received her art degree from San Jose State University and has done post-graduate work at the University of New Mexico.
In 1994 when her youngest child started kindergarten Renee then found the time to start doing art again. She dyes and paints all her fabric, working with cotton and silk. And then transforms her fabric into vibrant fiber constructions and collages that have been described as "pure visual joy".
Renee's work is included in the Art Collections of the Harwood Museum in Taos(NM), State of New Mexico, Bernalillo County (NM), and the Fisherville, VA Medical Center. Just recently Renee was honored to have a piece accepted into the Santa Fe Capitol Art Collection.
Events
Ongoing

Studio - open by appointment

Renee's studio - 1609 Los Luceros Rd NW, Albuquerque
Contact
1609 Los Luceros Rd NW
Albuquerque NM
505-242-5703